Meet the unsung heroes of twenty-seven names: our local makers.
We're forever grateful to work with a group of talented local craftspeople – they truly turn our dreams into reality. From a small team of virtuoso pattern-makers in the Waikato, a couple of crafty cutters in Tāmaki Makaurau, to magical machinists over the motu, Rachel works directly with our manufacturers daily. They text her holiday photos, go back and forth to find the perfect thread match, and pop sweet notes in with samples. Being a part of the industry and supporting their livelihoods brings us so much pride and joy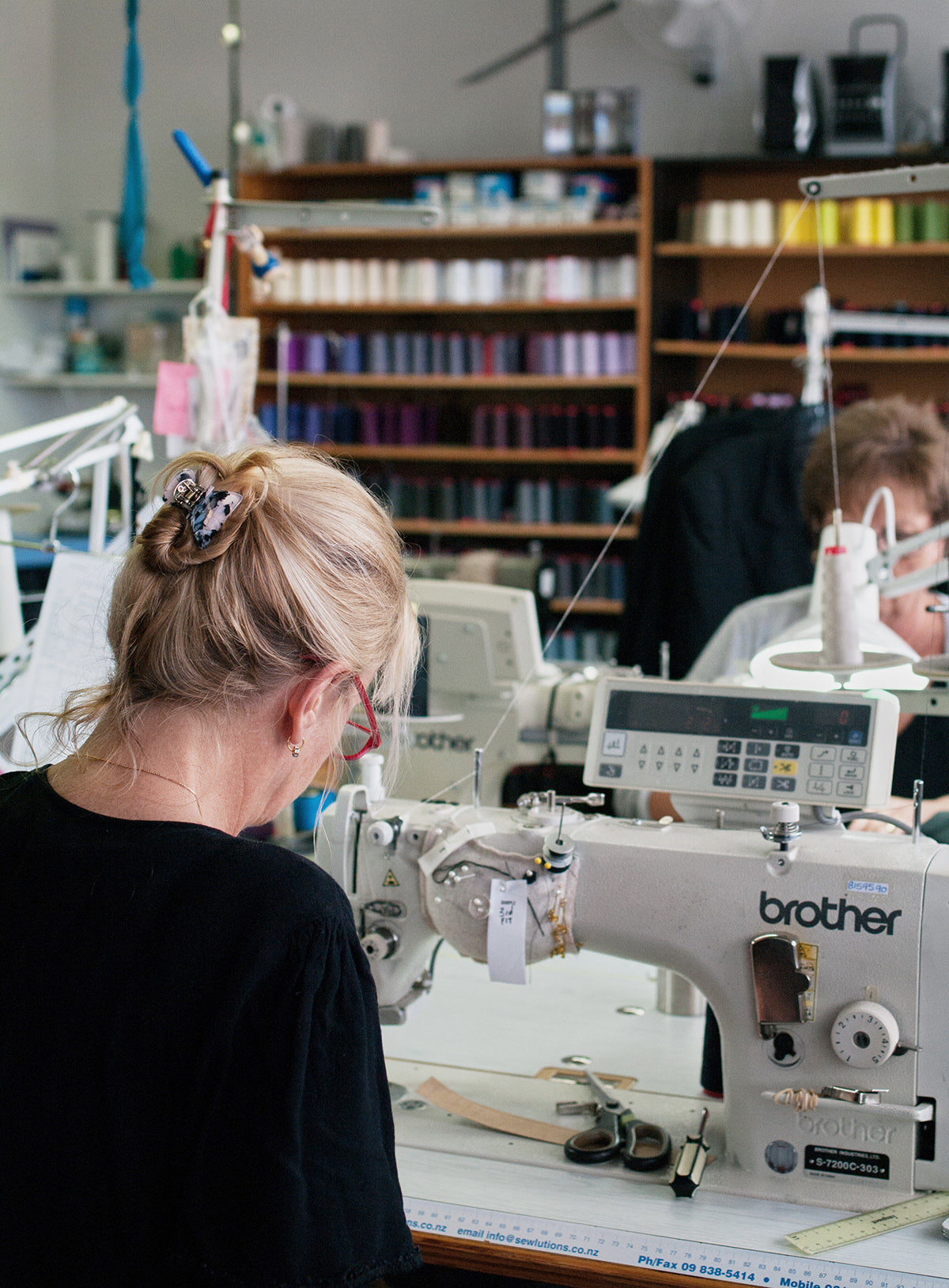 Avenue Clothing, Tāmaki Makaurau
We've been working with Avenue clothing since 2007. They put the art in artisanal and we're always humbled by their talents.
Why do you love your work?
Working with prodigious people to produce a beautiful garment is something I love as the process requires a few strategic processes and seeing it all develop is amazing. We at Avenue pride ourselves on delivering quality.
In conversation with Steven from Avenue
Tell us about Avenue Clothing?  
We are a boutique sampling and manufacturing company who have been around the industry now for nearly 20 years.
Can you tell us about how twenty-seven names is manufactured here in New Zealand?
We contract the make to skilled machinists who are working from home studios. Roughly 80% of our machinists are skilled migrants who we are very lucky to work with. We visit them most days and they have excellent working conditions. 
Umsiko Clothing
We've been working with Umsiko since Iona started her business in 2015. Iona's knowledge and kindness is seemingly limitless and we're really lucky to to have her right here in Newtown.
In conversation with Iona from Umsiko
Tell us about Umsiko?
We are a Wellington-based fashion studio specializing in pattern-making, samples and production for the clothing industry in New Zealand.
How do you calculate piece rate? 
We time how long it takes to sew a sample or first off, then we multiply the hours taken by the living wage. We then add a further 10% to ensure our outworkers are being paid fairly for their work.
Do you have a minimum order quantity?  
We don't have minimum order quantities however there can be a surcharge depending on the amount of units manufactured.
Our local manufacturers
Pattern-making
Pattern Potentials, Morrinsville
Cutters
Brooks Cutting Services, Avondale
Capz Cutting, Kingsland
Power Cutting, Mt Albert
Manufacturers
Avenue Clothing, Morningside
Beverley Productions, Tauranga
Longdons, Glen Eden
Umsiko, Newtown
Our suppliers
We work with a small handful of hardworking local fabric suppliers to source our fabrics and trims. We predominantly opt to use natural fibres and deadstock.
Discover our suppliers